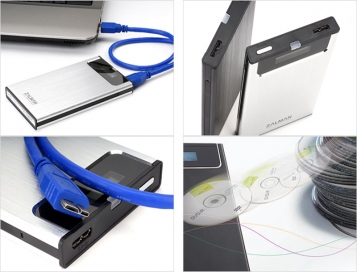 Are you fed up of having to burn CDs with ISO images, or do you keep losing the CDs ?
The Zalman Portable Virtual ROM Drive is ideal for you.
The Zalman VE300 2.5″ SATA HDD Enclosure is a replacement for your portable CD/DVD player and discs. Install your choice of 2.5″ SATA Hard Drive, load all of your ISO files onto the hard drive, choose the ISO file you wish to use via the built-in file select switch and LCD display and you can install your choice of OS directly from the hard drive to your system. The enclosure connects via USB 3.0 (USB 2.0/1.1 Compatible) and is automatically detected as both a Mass Storage Device and an External Optical Drive.

The ZM-VE300 also has a convenient One Touch Backup button. Pressing the button once will automatically copy files to the selected folder. Pressing the button for more than 3 seconds will automatically turn power off, allowing the external hard drive to be removed safely without damaging the data.
The ZM-VE300 has an aluminium casing with an LCD display that shows the list of available ISO files that have been stored on the HDD. It is compatible with any 2.5″ SATA hard drive or solid state drive, and doesn't require any additional drivers or software to mount the ISO files. It is USB powered.
Loading your .iso files onto the VE300 device:
Attach the drive to a computer via USB
Make a primary partition, using either part of or the whole disk and format as NTFS.
Make an "_iso" folder in the root of the drive e.g. as "E:_iso"
Copy all your ISO images to the "_iso" folder. (You can use sub-folders too)
Tell the OS to release the disk.
Ready to go!
Booting from an .iso file on the VE300:
Set the VE300 to be in either ODD-MODE or DUAL-MODE (HDD and ODD).
Use the jog wheel to find the .iso file you wish to use from the list displayed on the LCD screen.
Press the jog wheel in to select the .iso file and the CD/DVD icon will be displayed in the LCD display.
Boot your target system and set the BIOS to boot from USB CDROM.
Your system will now boot from the .iso file on the VE300 just as though you had a traditional optical drive.