Additional Stock Ordered – Popular Lines Re-Stocked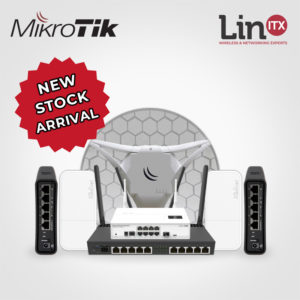 LinITX has just received our latest delivery of MikroTik stock. We have made allowances for possible stock delays over the coming months.
Please also note, stock is selling out fast. All in-stock items are available for *same-day dispatch.
New & Returning Products:
MikroTik Wireless Wire Cube 60 GHz Link 5GHz Failover Pre-Configured Pair
MikroTik 4011iGS Wireless Router RB4011iGS+5HacQ2HnD-IN
MikroTik Chateau Home Router Access Point With Class 12 LTE
MikroTik LHGG LTE6 Kit with Gigabit Ethernet – RBLHGGRR11e-LTE6
MikroTik LHG LTE Kit – RBLHGR+R11e-LTE
MikroTik LoRaWAN Gateway wAP LR8 kit – RBWAPR-2ND+R11E-LR8
MikroTik Cloud Core Router SFP+ Dual PSU – CCR1036-8G-2S+R2
MikroTik Wireless Wire Pre-Configured 60GHz Link – RBwAPG-60ad Kit
MikroTik C5 Power Line Adaptor Pro – PL7510Gi
*Place your order before 3:00pm (preferably 2pm) for same-day dispatch.
Don't forget to email shop@linitx.com or call 01449 724255 for any technical queries relating to our range of MikroTik products.