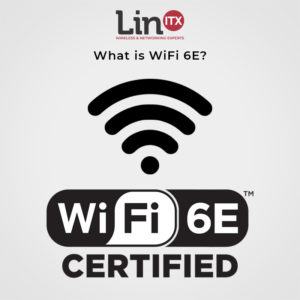 Hopefully you're familiar with the latest WiFi 6 standard, which we highlighted in a previous blog post.
Currently, WiFi 6 (802.11ax), operates on the 2.4GHz and 5GHz radio bands and is capable of a maximum data rate of 9.6 Gbps.
The newly updated WiFi 6E standard offers both 2.4GHz and 5GHz as well as operating on the 6GHz radio band, in the UK this will allow 24 x 20MHz channels, 12 x 40 MHz channels, 6 x 80 MHZ channels or 3 x 160 MHz channels; this helps reduce congestion in network traffic, especially in areas where multiple networks are in operation.
Put simply, WiFi 6E is WiFi 6 with the addition of 500MHz in the 6GHz radio band.
WiFi 6E will be fully backwards compatible with WiFi 6 and all previous WiFi standards (802.11, WiFi 1: 802.11b, WiFi 2: 802.11a, WiFi 3: 802.11g, WiFi 4: 802.11n, WiFi 5: 802.11ac). In order to get the full benefits of WiFi 6 and WiFi 6E – you need to own compatible devices that support the WiFi6 + WiFi 6E standard. If you want all your devices to fully utilise WiFi 6E – your router must be WiFi 6E, including all attached devices.
WiFi 6E is still on the horizon for 2021 – we don't currently have any products which support the standard (as of 11th May 2021). However, there are a number of standard WiFi 6 devices currently on the market – including the AmpliFi Alien router, and Ubiquiti's range of WiFi 6 access points: UniFi U6-Lite, UniFi U6-LR and the UniFi U6-Pro, with more products to follow throughout 2021.
In summary, it is beneficial in some cases, to stay ahead of the curve and try to future-proof your network and connected devices. Upgrading your router will probably be your first port of call – make sure you purchase a router capable of WiFi 6 standards (or hold off until WiFi 6E routers become available), if you then add WiFi 6 (or WiFi 6E) devices, as and when they become available, you'll already have the network infrastructure in place.
We're sure there's plenty more to come in terms of exciting new WiFi 6 and WiFi 6E products and LinITX.com will be the first to bring you the latest news and updates from our wide range of wireless + networking manufacturers.
If you'd like to discuss our WiFi 6 products or the benefits of upgrading your existing equipment to WiFi 6 specifications, please give our experienced technical team a call on 01449 724255