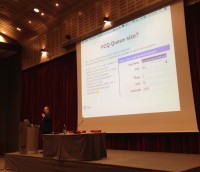 Once again LinITX were in attendance at the European venue for MikroTik's User Meeting.  Each year it gets larger with MikroTik stating that it was nearly the largest event so far, at approximately 1200 attendees. Ron Touw usually contributes to the meetings with a technical presentation and/or delivers Training in the days prior to the meeting to students from all over Europe who are keen to learn more about MikroTik and how they can use RouterOS to solve their networking needs.  On this occasion his presentation was on managing the every increasing demands placed upon ISPs to deliver ever more bandwidth as if there were no limit.

You can see a video of the presentation on MikroTik's TikTube website explaining a solution based upon Layer 7 Deep packet inspection techniques and using Mangle rules efficiently along with MikroTik's HTB Based QoS system. The slides are also available here
With 5 qualified MikroTik Consultants and a regular training session every month on either MTCNA, MTCRE, MTCWE, MTCTCE or MTCINE, plus the largest stock of MikroTik products in the UK, we believe we are the best place for all your MikroTik requirements.  We also offer pre- and post-sales support, remote and onsite consultancy, network design (and re-design), plus assistance with migration from a Layer2 to Layer3 topology using OSPF, MPLS, VPLS and BGP to allow your network to grow with you.  We also offer "third line support" to a number of WISPs so that when things do go wrong, we are here to help you to quickly identify the problem and get you back up and running again.  You can find our contact details here.