The Ubiquiti NEXT Conference has concluded in Wynn, Las Vegas with a host of new products and upgrades for existing UBNT products. Ubqiuti's conference has 4 main Themes, Spectrum Utilisation, Network Management, Tower Defensibility and WISP Market expansion. Each will be outlined below.
Spectrum Utilisation
In this section UBNT announced 2 new additions to the airMAX AC range.
      LightBeam AC 2×2 23dBi MiMo CPE                  Rocket 5AC Prism
Both are to include the revolutionary dual radio technology to allow hardware based airMax and simultaneous spectral analysis whilst serving a reliable connection.
Along with new hardware, airOS 8 was also announced which is going to bring some well sought after features including backwards compatibility to previous airMAX M hardware and airMAGIC.
airMAGIC brings a whole new way to perform spectrum analysis, by scanning the RF spectrum on all available channel widths in the background to give an intuitive suggestion as to what channel and frequency to use.
Network Management
The network management segment of the conference brought along another new product, the CRM Point. CRM Point takes on board community feedback over their CRM cloud platform and turned it into a hardware based hybrid cloud controller allowing the user to host their own CRM controller for management of airMAX devices.
The hardware CRM Point is based a small arm processor and can be powered from a 802.3af POE switch or via a 5v USB connection. Ubiquiti also announced the CRM Point came the announcement of the Unifi Cloud Key. The Unifi Cloud Key uses the same hardware as the CRM Point but includes Ubiquiti's Unifi Controller pre-installed, this creates a hardware based hybrid cloud controller removing the need for the controller software to be loaded onto workplace machines or a home computer.
Tower Defensibility 
Tower Defensibility brought along 2 new product groups, the airFiber NxN and the Edgepoint. Both new product groups are designed for tower use to aid in the delivery of high throughput multi-gigabit reliable back haul links.
The airFiber NxN comes in 2 forms, a dual radio antenna for 4×4 MiMO transmission and the quad radio antenna which is reported to be capable of 8×8 MiMo and potential 3 failover radios when used with a EdgeMax router to keep the link up.  The NxN is designed to be used with the airFiber X series which can achieve throughputs of up to 2Gbps when used with the quad NxN antenna.
The new EdgePoint range is designed to revolutionise tower deployments by removing the clutter and performance risks that running Ethernet up a tower can cause, EdgePoing fed by a single fibre connection which can run up the side of the tower and is not susceptible to ESD interference. The EdgePoint can be connected up to multiple radios using small shielded ethernet cables.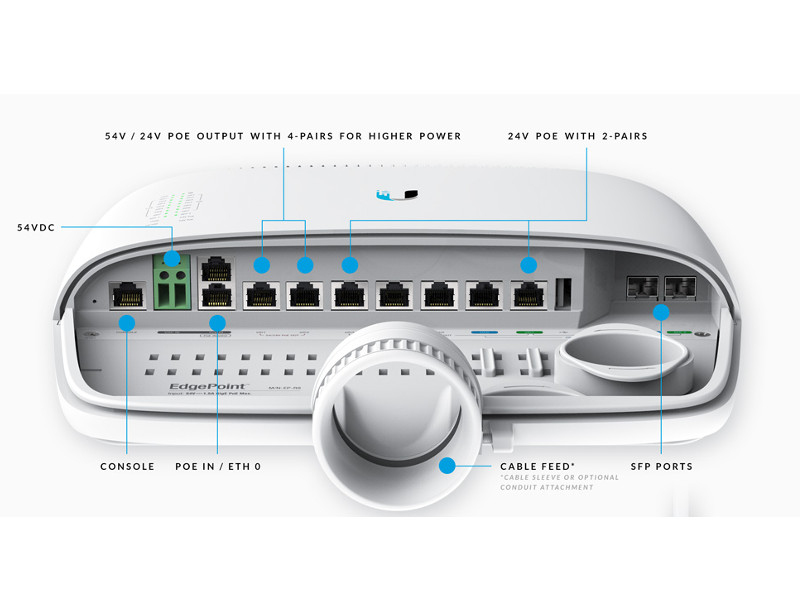 WISP Market Expansion
This segment came as a bit surprise with Ubiquiti announcing not only a new range but a new market that they are diving into.
The new sunMAX range contains Ubiquiti's latest venture into solar technology, plug and play cost effective solar panels; along with all the mounting hardware and electronics needed.
SunMAX is a US product only at present and is not yet ready for release within the UK and Europe. We expect a UK variant to become available early next year, if you would like to see this happen then get on the UBNT Community forums and make some noise.