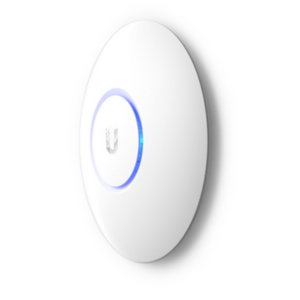 The UniFi UAP AC PRO access point is one of Ubiquiti's flagship APs – it offers 3×3 AC1750 antennas, as well as two switched Gigabit Ethernet ports.
The UniFi AC Pro access point (and all of the UniFi AP range) is controlled and managed by the UniFi Network Controller Software, an intuitive and user-friendly application, which can be installed on your smartphone or PC. Once installed, set-up of the UAP AC PRO is a breeze, allowing quick configuration and optimisation.
Throughput on the AC PRO is impressive with up to 450Mbps on the 2.4GHz band and up to 1300Mbps on the 5GHz band. It has an exceptional signal range of up to 122m (400ft) with clear line of sight, but bear in mind that the install environment and construction materials within your home or business could significantly affect coverage.
If we compare the three main contenders in the UniFi AP lineup – the AC LITE, the AC LR and the AC PRO, it's the UAP AC PRO that comes out on top in terms of performance and overall value for money.
Although the UAP AC LR gives a better signal range, this is at the cost of lower throughput (or connection speed). Given the choice, and in most install applications, the Pro gives you the most bang for your buck.
We highly recommend the Pro for both business and home installs where signal range and throughput (speed) are important and where the property has a larger area to cover.
UniFi UAP AC PRO
A great access point for both home and business use.