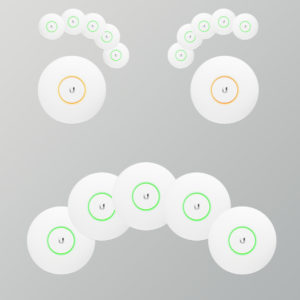 One of the most common troubleshooting questions we get asked at LinITX, often involves customers wondering why their original UAP/UAP-LR/UAP-PRO "will not work". Whether this is a problem with adopting, upgrading or applying settings to an existing network, it's normally solved by ensuring your UniFi Network Controller Software is the correct version (V5.6.42).
If you have one of the following Version 1 UAPs, you might encounter this problem:
1. UAP (Including 3-Packs)
2. UAP-LR (Including 3-Packs)
3. UAP-PRO (Including 3-Packs)
4. UAP-Outdoor
5. UAP-Outdoor-5
6. UAP-Outdoor+
7. UAP-AC (Including 3-Packs)
8. UAP-AC-Outdoor
If you are using any of these devices, you will need to run the LTS version of the UniFi Network Controller software V5.6.42. You can find this on the download section of Ubiquiti's website. If you are already running the latest version (5.12.22 at the time of writing) you will need to completely remove your install, including config files and install the LTS version. This should solve any compatibility related issues.
If you have any other technical related questions or simply need some help with your purchasing decisions, please call our team on 01449 724255 or email shop@linitx.com