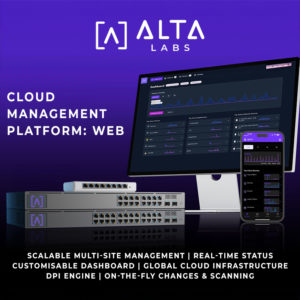 Here at LinITX.com we're often asked by customers what are the advantages and disadvantages of cloud-based solutions.
One topic recently on everyone's minds is the Alta Labs Cloud Based Management – something all of their latest access points and network switches currently integrate with.
Alta Labs has recently experienced a whirlwind of innovation. Not long ago, they released their WiFi 6 access points, and now, their array of network switches are gaining traction among distributors and consumers in the UK.
A hallmark of their products is the innovative cloud-based management platform they integrate with. This platform stands out due to its impeccable high-availability design, reinforced by a global content delivery network that guarantees swift responses and minimised latency worldwide.
In this post, our aim isn't to dive deep into the platform's technicalities; If that's what you're looking for, we recommend consulting the informative videos on Alta Labs' YouTube channel.
Instead, we're here to highlight the perks of adopting an Alta Labs cloud-based system. While we recognise the relevance of an on-premises controller in some scenarios (Alta Labs are already diligently working on a solution), Alta's focus on a cloud-first approach wasn't without reasons, and customers stand to gain immensely from this.
Behind Alta Labs is the prowess of Soundvision Technologies (SVT), which boasts over 24 years in manufacturing. The brains steering Alta Labs possess vast experience in network product development. Recognising that there might be a touch of reluctance from some installers when embracing new brands, they've collaborated with Codekeeper. They're a neutral third-party escrow service, set up to release Alta's cloud source code to the public should there ever be a scenario where they cannot maintain cloud hosting.
Why does Alta Labs emphasise a cloud-centric approach, and how does it differ from their peers?
Global Reach with Redundancy: The Alta Labs platform can be accessed universally, fortified by redundancy in various areas like hardware, power, and network. Your network management comes with an impressive 99.99% uptime assurance. Moreover, it adjusts to accommodate rising demand.
Innovative Cloud Design: Alta's unique cloud platform facilitates swift configuration adjustments. It grants you both retrospective and almost instantaneous insights into your network's performance. Should there be any issues with the cloud or if any Alta Labs tool disconnects from the internet, everything continues to operate seamlessly – barring making adjustments or accessing specific reporting features.
Let's also delve into the core benefits of choosing Alta Labs' cloud over a traditional on-premises setup:
Effortless Integration: Say goodbye to port forwarding and complex certificate setups which are prone to MITM attacks.
Simplicity at Its Best: We've simplified things so you don't have an additional hardware/software to manage.
Economical in the Long Run: On-site controllers might seem cost-free, but they come with hidden costs such as maintenance, space, and power. With us, access to the management platform is bundled with the purchase.
Unparalleled Reliability: Alta Labs platforms are housed in geologically stable environments, supported by varied power backups and multiple ISP connections.
Stellar Security: Your network traffic remains untouched by the Alta platform. Moreover, unless given permission by site administrators, even Alta's team cannot access any site. We comply with top-notch security standards and even offer Multi-factor Authentication for individual Alta Labs accounts.
Alta Labs remains dedicated to offering products and services that prioritise reliability, security, and efficiency. We invite you to experience the future with Alta Labs products and cloud-based management.
If you have any questions relating to the Alta Labs Cloud Management Software, or technical queries on the Alta Labs product range, please call our team of experts on 01449 888000 or email shop@linitx.com