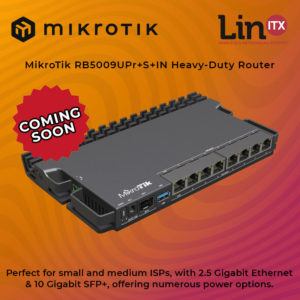 LinITX.com is pleased to announce a new router in MikroTik's line-up of high-spec networking products: the MikroTik RB5009UPr+S+IN is a new version of MikroTik's popular RB5009 router with PoE-in and PoE-out on all ports. It's perfect for small and medium ISPs, with 2.5 Gigabit Ethernet & 10 Gigabit SFP+, offering numerous power options.
The MikroTik RB5009UPr+S+IN features Gigabit Ethernet, 2.5 Gigabit Ethernet, and a 10 Gigabit SFP+ cage for fibre connectivity. It also features PoE-in & PoE-out on all 8 Ethernet ports. Users also have the option of using the 2-pin connector or DC jack, giving 10 separate ways of powering up the unit.
MikroTik RB5009UPr+S+IN supports a wide voltage range of 24 – 57 V. Mixed voltages are not supported – if you're using PoE-out to power other devices, the unit will choose the highest voltage (DC jack or the 2-pin connector) to power those.
Each PoE-out port can supply up to 25W of power. All the ports combined are limited to 130W, which should be adequate for most setups. You can specify maximum available power from your power sources manually, if necessary. When it comes to PoE-out features, the new RB5009 can trade blows with our legendary PoE switches: CRS354 & CRS328.
The MikroTik RB5009UPr+S+IN's tiny form-factor gives users a number of ways to install and mount on location: from confined spaces to huge corporate server rooms. They are so compact that you can mount 4 of these routers in a single 1U rackmount space.
With the new RB5009UPr+S+IN, MikroTik offers all small and medium ISPs a cost-effective and robust solution. It's a perfect addition to MikroTik's previous GPEN devices – a line of products designed to replace the expensive GPON solutions.
If you have any questions regarding the MikroTik RB5009UPr+S+IN or any of the MikroTik products in our inventory, please get in touch with our technical team on 01449 888000 or email shop@linitx.com.