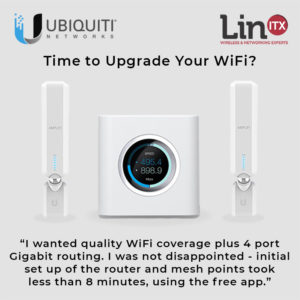 With most of the LinITX team working remotely, we've realised that some customers might be struggling with maintaining the best WiFi coverage at home.
All those extra bodies in the house, streaming, gaming, browsing YouTube or listening to Spotify, they'll really test the limits of what your WiFi can handle.
Fortunately there are solutions to this problem: if you want to upgrade to a fancy new router and matching access points, you can't go wrong with the AmpliFi HD Home WiFi Kit. We've had many happy customers comment on how much better their WiFi coverage is after upgrading. Not to mention, it's a very sleek and stylish addition to your home office, and it wouldn't look out of place in your living room either!
Alternatively, as a cheaper option, customers can also purchase additional wireless access points in order to boost coverage throughout each room in your house. For small to medium-sized homes, we recommend the UniFI UAP AC Lite Access Point (1 or 2 access points should be plenty). They'll help to improve coverage in your home and make connecting to WiFi a breeze in any room in the house.
We do have other options available for customers needing greater coverage or WiFi connection in their summer house, outbuilding, shed or garage. A simple pre-configured kit might be the answer, we have the airMAX NanoStation 5AC Loco Wireless Network Bridge Pre-Configured Kit available which will give you WiFi up to 500m away.
If none of these options sound like they're for you, please call one of our technical team on 01449 724255 and we will be happy to discuss further options and budgets.