LinITX – Continuing to Serve Our Customers
Courier Deliveries Unaffected – Orders Processing Without Delay – No Customer Collections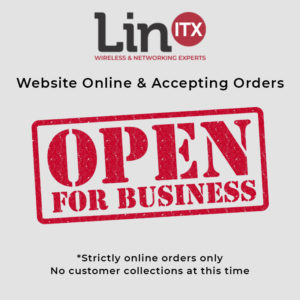 LinITX would like to reassure all our customers that we have taken the necessary precautions, in line with current government health and safety advice. We are currently running a remote office, with only essential members of staff attending our Needham Market offices.
As of today (Tuesday 24th March), we are still processing and dispatching orders without delay. We are no longer accepting customer collections at this time. We will update all customers via Social Media and by email, should this situation change.
The best place to follow us for live updates is Twitter: Follow @LinITX
We still have high stock levels of the most popular Ubiquiti and MikroTik products. We have a Ubiquiti shipment arriving this week to supplement existing stock levels.
We kindly ask customers to place orders early and not leave ordering until late in the afternoon. Please place all urgent orders before 2pm to avoid delays.
There will be a slight delay with our RMA (returns) process, as this requires members of staff to be in our offices. However, this delay will only add 1-2 days extra processing time.
We ask all our customers to please have patience with regards to their returns being processed in a timely manner.
Most importantly, we'd like to wish all our customers the best of health and to keep exposure to a minimum whenever possible.
We'd also like to remind our customers that many of the most frequently asked questions we receive by phone are answered on the website.
Please see our FAQ below:
Q: Are you still open?
A: Yes, LinITX.com is still taking orders online. We are no longer offering customer collection of any orders.
Q: When is your cut-off time for same day dispatch?
A: 3:30pm Monday to Friday (although we will always try to dispatch urgent orders placed after this time)
Q: Is this item in stock?
A: Please check the website for a live stock figure (these figures are updated as soon as any order is placed and represent the true stock levels in our UK warehouses)
Q: How much is delivery?
A: Retail customers have free delivery on orders over £90. For trade customers (and orders under £90 for retail customers) delivery is charged based on weight and destination.
To check your delivery cost, please add all items to your cart, click checkout (top right) and enter a delivery post code, this will give you an accurate estimate of carriage charge.
Q: How long is delivery?
A: Our standard delivery is an express service with the majority of in-stock items arriving within 1 working day (this does not include weekends or bank holidays)
Q: Where is my order?
A: Full tracking information is provided with your order dispatched email – links to the relevant courier are provided. Live tracking updates are available by clicking these links.
Q: Where is my (VAT) invoice?
A: Your invoice is attached to the order dispatched email.
If customers have any technical queries or questions not relating to the above, please give our sales team a call on 01449 724255 as we are always happy to assist.