The Mikrotik LTE range offers a powerful solution to the problem of high-speed internet in rural locations. Going from a connect speed of 1-2Mbps or less to a high speed LTE connection is a huge jump; but are you getting the best performance possible from your LTE device?
You may find that you have occasional dips in performance or that your connection is unstable – dropping out completely in some cases. This can often be due to having out-of-date firmware on your LTE modem which means you are missing out on stability improvements and bugfixes that Mikrotik cannot include in a RouterOS update.
This guide will cover how to update your MikroTik LTE modem to ensure it is performing to the best of its ability.
We have established the reasons why you want to update your LTE modem, but how do you actually do it?
The first step is to ensure you are running the latest version of the "long term" or "stable" release branch of  RouterOS and that your Routerboard firmware is updated to match.
Once this is done we can move on to the LTE firmware which is provided as FOTA (Firmware Over The Air) so you must have a working LTE connection to proceed.
R11e-4G and R11e-LTE6 devices can also be upgraded via a file but you will need to contact Mikrotik support to obtain this.
Now that your device is connected via LTE we must check what firmware version we have installed, check to see if there is a new version, and install the new firmware if available.
The following commands must be entered in the device terminal which can be accessed in Winbox under the "New Terminal" menu.  To check the currently installed firmware use the "/interface lte info lte1 once" command:

Next we can use the "/interface lte firmware-upgrade lte1" command to check to see if there is a new firmware version available to download:

If there is a new LTE firmware version available we can then use the command "/interface lte firmware-upgrade lte1 upgrade=yes" to download and install the update:

The whole upgrade process can take up to 10 minutes depending on the speed of your LTE connection – do not disconnect or power of the device during this time.
After the upgrade has successfully completed you should issue a USB power-reset (under the menu System -> Routerboard -> USB Power Reset) or reboot the device: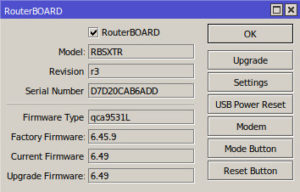 Once the unit has finished rebooting it will reconnect to the LTE service and will now be updated to the latest available LTE firmware. Keeping your LTE modem up to date in this way will help ensure you get the best stability and performance possible from your Mikrotik LTE device.
We hope this guide has been useful, but if you have any further questions on updating LTE modem settings for your MikroTik LTE devices, please call our team of experts on 01449 724255 or email shop@linitx.com for further help and support.