Additional Stock Ordered – Popular Lines Re-Stocked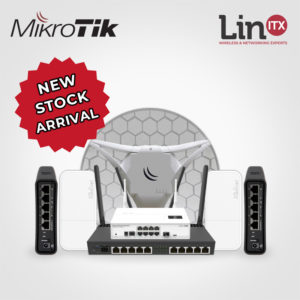 LinITX has just received our latest shipment of MikroTik stock. We have made allowances for possible stock delays. Stock is selling fast, so don't delay. All in-stock items are available for *same-day dispatch.
Highlights include:
MikroTik Cloud Router Switch 24 Port SFP+ CRS326-24G-2S+RM
MikroTik RouterBoard Quad Core 1GB RAM RB1100X4 (RouterOS L6)
Mikrotik RouterBoard hEX PoE Lite Router RB750UPr2 (RouterOS L4, UK PSU)
MikroTik RouterBoard hEX S – 5 Port Gigabit Ethernet Router
MikroTik RouterBoard hAP AC RB962UiGS-5HacT2HnT (RouterOS L4, UK PSU)
MikroTik High-Speed 60GHz CPE Network Bridge – RBLHGG-60ad (single)
MikroTik LHG LTE6 Cat6 4G Outdoor Long Range Router -RBLHGR+R11e-LTE6
*Place your order before 3:00pm (preferably 2pm) for same-day dispatch.
Don't forget to email shop@linitx.com or call 01449 724255 for any technical queries relating to our range of MikroTik products.