We are often asked about the different versions of MikroTik RouterOS, and thought we would clarify when each should be used.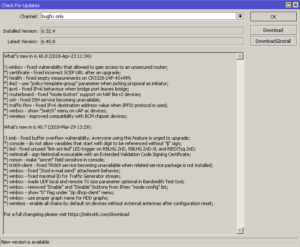 When you go to click the "Check for updates" button in System -> Packages in any recent versions of RouterOS, you are presented with a set of choices in the channel dropdown:
bugfix only
This is the stable version of RouterOS which only changes to incorporate security or bug fixes.
current
This is the latest stable version which includes new functionality and bugfixes
release candidate
This is the latest version which is in testing, it often has new functionality, bugs and features changes
So which should you use ?
For normal production routers we recommend that you use 'bugfix only'
If after thoroughly reading the change log, you have identified and decide you need some new functionality which is listed in the "current" version then test with this version first on a non-production / non-important router first, but be aware that functionality changes may also cause major changes to the way you have to configure RouterOS!
If you wish to test the very latest features and functionality then try "release candidate" but you must understand that this version can have bugs, even to the point of making your router only recoverable by netinstall. Never rely on "release candidate" in a production environment.