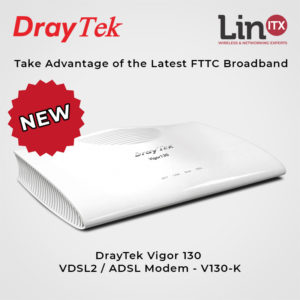 Introducing a new product to LinITX's extensive range of wireless & networking products: the Draytek Vigor 130 VDSL2/ADSL Modem.
Offering a robust and reliable DSL connection, the Vigor 130 is a true ADSL/VDSL Ethernet Modem (bridge), providing compatibility with all current UK VDSL/ADSL technologies (BT Infinity etc). Please note, this is not a router, but will allow you to connect many standard routers to VDSL and ADSL lines.
Draytek Vigor 130 allows customers to take advantage of the latest Fibre to the Cabinet – FTTC Broadband, which is ideal for high bandwidth consuming applications, such as HD streaming, Voice over IP (VoIP), HD music streaming, online gaming and IPTV services.
Features include:
Minimal setup / plug and play configuration (includes advanced options for more experienced users)
Ethernet Connection for client device (router, PC etc.)
ADSL and VDSL Parameters pre-set for UK ISPs (adjustable)
PPPoA/PPPoE Bridging compatible with ISPs running IPv6
ADSL and VDSL (FTTP/BT Infinity) Ethernet Modem
Bridge (pass) a single IP address or a whole public subnet
Bridging mode IPTV (YouView, Sky Q) Relay
Support for MTU1508 (Jumbo Frames)
IPv6 and IPv4 Compatible

We highly recommend the Vigor 130 if you want to take advantage of FTTC broadband speeds in use with your existing router. Routers that are commonly used in this combination can include:
UniFi Security Gateway VPN Firewall Router USG
MikroTik 4011iGS Router -RB4011iGS+5HacQ2HnD-IN
MikroTik hAP AC2 RBD52G-5HacD2HnD-TC.
If you have any technical questions regarding the Draytek Vigor 130, please give our technical team a call on 01449 724255 and we'll be delighted to assist.