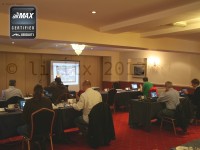 We held our first 'Ubiquiti AirMax Certified Admin' Training course last week and we have already started receiving some very good and positive feedback about the training. Well done to all the students who attended!  Everyone passed and some with some very high scores! One student even managed to achieve 98%! (Well done Mick!)
We are finalising the dates for the rest of the year but our next training course is May 2nd-3rd 2013, so if you can't make that one, keep an eye on our Ubiquiti training page as these courses are booked up very quickly indeed. Within a week of it going 'public' all places on this last one were already filled.

We look forward to seeing you at our next training session!