Ubiquiti UBWA Broadband Wireless Admin Certification Training Course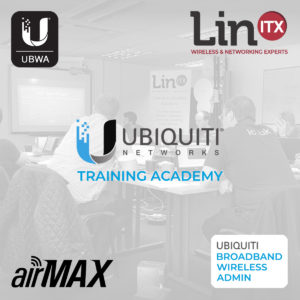 The Course (UBWA)
The new Version 2 Ubiquiti Broadband Wireless Admin Course (UBWA) was previously known as the UCWA Ubiquiti Carrier Wireless Admin Course (and before that the airMAX Certified Admin (UACA) course) was the first course offered by the Ubiquiti Training Academy.
This hands-on 2 day course provides both the background of foundational theoretical knowledge and the hands-on experience of building out a wireless communications system using 802.11ac based Ubiquiti equipment. Using the latest Ubiquiti AC Point to Point radios, each student will get a good understanding of setting up and testing wireless links.
Course Outline:
RF Theory and RF Fundamentals – helps to better understand why links don't always work as well as expected!
Antenna Fundamentals – Choosing the right antenna can make a wireless link work optimally
Spectrum Analysis – Learn to use the built in tools such as airView
Link Calculations – Understand more about Link Budgets, fade margins and using AirLink
Installation Best Practices – avoid the horrors of a bad install – learn the right way to install airMax equipment. Advantages of using the Titanium range.
Learn more about the AirFibre AF24, AF5 and AF5U range of Gigabit speed links
Ubiquiti's Unique Features – learn more about all the features of airMax and AirFibre
The Trainer:
The UBWA training course is being delivered by Chris Hasell. He has a wealth of experience in RF and Wifi systems especially with Ubiquiti products and is trained and certified by Ubiquiti in all their training courses.
Contents:
The full outline of everything that will be covered is dictated by Ubiquiti and is frequently changed to keep it up to date with the latest features of AirOS. The latest information is located at http://www.ubnt.com/training/courses
The UBWA Qualification:
The Ubiquiti Broadband Wireless Admin (UBWA) qualification is only issued upon passing the official Ubiquiti online examination, it is not available online and is invigilated only by approved Ubiquiti Trainers. Ubiquiti only permit authorised and approved Ubiquiti Trainers with sufficient proven qualifications to deliver this training. The training delivery and material used is all produced by Ubiquiti, thus ensuring a high and consistent standard of materials is used by all their Trainers.
Intended Target Audience:
This course is aimed at Support technicians, system integrators, installers and other technical users who already use or would like to start using Ubiquiti airMax products for delivering wireless based network connectivity. Specifically AirFibre, Powerbeams, Nanobeams, Rockets, Nanostations, NanoBridges, Sectorial and Dish Antennae, Airgrid and Bullets etc.
Student Prerequisites:
A working laptop with WiFi and Ethernet ports.
If the student is wishing to take the UBWA examination, then Photo ID will be required to prove identity before taking the exam. Acceptable types of ID are equal to that required for City and Guilds exams.
What is included?
2 days of training
Free Ubiquiti AirMax AC PtP radio used on the course
Tea/Coffee, etc at refreshment breaks.
Buffet Lunch
Training manual
If passing exam – also receive a free Ubiquiti T-Shirt and Certificate
The exam – if required
For details on current and upcoming Ubiquiti Training Courses, please vist our training course page for more details. If you have any other questions relating to our training course, please all our technical team on 01449 724255 or email shop@linitx.com for assistance.