Ubiquiti UEWA (Enterprise Wireless Admin) Training Course on UniFi Products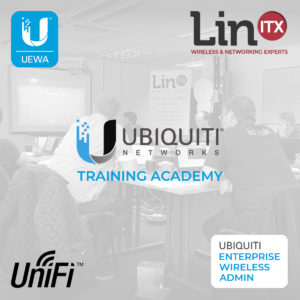 The Course (UEWA)
The Ubiquiti Enterprise Wireless Admin (UEWA) course is the latest version of the WiFi course offered by the Ubiquiti Training Academy. This hands-on 2 day course provides both the background of foundational theoretical wireless knowledge with specific reference to use of 2.4 and 5GHz wireless devices both indoors and outdoors, with hands-on experience of building a 802.11a/b/g/n/ac wireless communications system using Ubiquiti UniFi equipment.
This course is designed to prepare professionals to meet the challenges faced by today's enterprise networks through hands-on lab activities using UniFi UAP AC radios with version 5 UniFi controller and also the NanoBeam AirMax radios, ideal for bridging connections between buildings.
Course Outline:
WLAN Fundamentals
Unlicensed Radio Spectrum
Channel Operation
Regulatory Domains
WLAN Standards
Wireless Access Methods
Network Equipment
WLAN Planning
Wireless Technology
Coverage & Channels
TX Power
Antenna Gain
Channel Availability
Signals vs. Noise
Airtime, Capacity & Density
Mixed Networks
Deployment
Site Surveys
Overlap
Wiring & PoE
Benchmarking
Basic Adoption & Configuration
Multi-Site
Layer-2 Adoption
WLAN Groups
SSID, Security & VLANs
Analytics
Advanced Adoption & Guests
Cloud Hosting
Layer-3 Adoption
Discovery, SSH, DNS & DHCP
Minimum RSSI
Guest Portal
Access Controls
Customization
The Trainer:

The UEWA v2 training course is being delivered by Chris Hasell. Chris has a wealth of experience in RF and Wifi systems especially with Ubiquiti products and is trained and certified by Ubiquiti in all their training courses.
Contents:

The full outline of everything that will be covered is dictated by Ubiquiti and is frequently changed to keep it up to date with the latest features of the UniFi Controller Software and the UAP Range of equipment. The latest information is located at https://www.ubnt.com/training/
The UEWA Qualification:

The Ubiquiti Enterprise Wireless Admin (UEWA) qualification is only issued upon passing the official Ubiquiti online examination, it is not available online and is invigilated only by approved Ubiquiti Trainers. Ubiquiti only permit authorised and approved Ubiquiti Trainers with sufficient proven qualifications to deliver this training. Each trainer has been trained by Ubiquiti to deliver the course content in the correct manner and to a high enough standard so as to maintain the integrity of the course.The training delivery and material used is all produced by Ubiquiti, thus ensuring a high and consistent standard of materials is used by all their Trainers.
Intended Target Audience:

This course is aimed at Support technicians, system integrators, installers and other technical users who already use or would like to start using Ubiquiti UniFi products for delivering wireless based network connectivity. Specifically the UAP UniFi Range of Access Points.
Student Prerequisites:
An understanding of TCPIP and the difference between a Layer2 and a Layer3 network
A working laptop with WiFi and Ethernet ports and the ability to gain Administrative access rights to the operating system.
If the student is wishing to take the UEWAv2 examination, then Photo ID will be required to prove their identity before taking the exam. Acceptable types of ID are equal to that required for City and Guilds exams.
What is included?
2 days of training
You get to keep the Ubiquiti UAP AC Lite used on the course!
Tea/Coffee, etc at refreshment breaks.
Buffet Lunch
Training manual and if you pass the exam, a free Ubiquiti T Shirt and Certificate
The exam – if required
For details on current and upcoming Ubiquiti Training Courses, please vist our training course page for more details. If you have any other questions relating to our training course, please all our technical team on 01449 724255 or email shop@linitx.com for assistance.