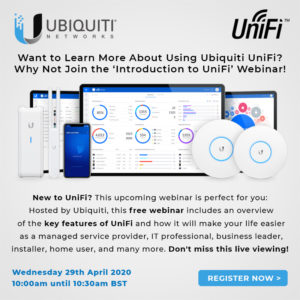 "Introduction to UniFi" Webinar – 29th April 2020 @ 10:00 am BST
New to UniFi? This upcoming webinar is perfect for you: Hosted by Ubiquiti, this free webinar includes an overview of the key features of UniFi and how it will make your life easier as a managed service provider, IT professional, business leader, installer, home user, and many more.
LinITX will be tuning in on the 29th April @ 10am BST to check out what Ubiquiti has to say; we highly recommend all customers who are interested, to reserve your place as soon as possible and avoid missing out this unique opportunity!
For further details on how to book your place, please see our summary below:
Webinar: Introduction to UniFi
Website: https://attendee.gotowebinar.com/register/8657938692662979597
Date: Wednesday 29th April 2020
Time: 10:00 am BST
Duration: 30 minutes
We hope to join you all there to learn some useful tips and tricks on getting the most out of your UniFi devices and software.
If you have any technical questions on Ubiquiti UniFi in the meantime, please contact our technical team on 01449 724255 and we'd be happy to assist.