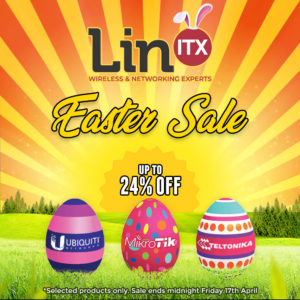 LinITX.com has just made their Easter Sale live!
We have a selection of products we think you'll find useful in extending and expanding your network, upgrading your devices when you're working from home or simply replacing your WiFi and network equipment with something more up-to-date.
All products featured are discounted by at least 10% off retail prices. We already try to stay competitive on our pricing, but we hope these extra savings will come in useful in these uncertain times.
We have a selection of products on offer, including top-selling products from Ubiquiti, MikroTik, Teltonika and QuWireless. We've selected products that customers are actively looking to purchase, and we hope that there is something on offer, whether you're a small business or home user.
We think you'll find something that's worth the investment, especially to enable your business to keep running from home. If you'd like to discuss with us any requirements to enable you to work from home more efficiently, please contact our technical team (shop@linitx.com) and we'd be happy to help you choose the best option for you and your business.
Highlights from Ubiquiti include the Ubiquiti AmpliFi Instant Home Mesh Wireless System, or a stand-alone Ubiquiti AmpliFi Instant Home WiFi Router.
From MikroTik, we have the MikroTik Audience Tri-band Home Mesh Access Point CAT6 LTE Kit, and the MikroTik LHG LTE Kit.
We also have great offers from Teltonika, including the Teltonika RUT955 Dual-Sim 3G 4G LTE WiFi Router and the Teltonika RUTX09 LTE Cat 6 Router.
More Product Highlights
Ubiquiti UniFi Cloud Key Controller Gen2 – UCK-G2
Ubiquiti UniFi Cloud Key Controller Gen2 Plus + 1TB HDD NVR – UCK-G2-PLUS
Ubiquiti UniFi Video Camera G3 1080P 802.3af IP CCTV UVC-G3-BULLET
Ubiquiti UniFi Video Camera G3 Flex – UVC-G3-FLEX
MikroTik mANT LTE 5o 5dBi LTE Antenna
MikroTik RouterBoard wAP LTE kit – RBwAPR-2nD+R11e-LTE
QuWireless QuRouter Omni-Directional LTE Router IP67 Enclosure – 240S
QuWireless QuSpot Omni-Directional LTE Antenna IP67 Enclosure for RUT955 – A955S
Teltonika RUTX11 LTE Cat 6 WiFi Router
If you have any technical questions relating to the products included in our Easter Sale, please feel free to contact our team of experts on 01449 724255 (Mon-Fri 9am-5pm – excluding weekends & bank holidays).