MikroTik Certified Security Engineer (MTCSE) Training Course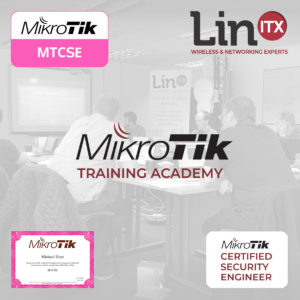 The Course:
The MTCSE course was introduced at the EU MuM 2018 and based on RouterOS v6. You will require a valid MTCNA certification before you can take the MTCSE exam. A MikroTik hAP AC Lite is used throughout the course which you can then take home with you.
The Trainer:
The course is normally delivered by Ron Touw. Ron has over 30 years wireless experience with the last 10 years specialising in MikroTik products and holds all of MikroTik's Qualifications. He was instrumental in designing this new course and had led the development of the main course outline alongside peer review from other MikroTik Trainers and internal MikroTik Support staff.
Contents:
More detailed information on this course is available in the MikroTik MTCSE datasheet.
The MTCSE Qualification:
The MikroTik Certified Security Engineer (MTCSE) qualification is only issued upon passing the MTCSE online examination, it is not available online unless invigilated by an approved Mikrotik Trainer. In order to take the examination MikroTik require the full attendance of an official training course delivered by an approved Mikrotik Trainer. The training delivery and material used can be checked by Mikrotik at any time to ensure a high standard is maintained and therefore the student can be assured that the qualification is of worth to any potential employer. The training material is constantly being updated as each RouterOS version is updated and therefore the MTCSE qualification is only valid for a period of three years from date of issue.
Student Prerequisites:
MikroTik state that students MUST have passed the MTCNA exam at some point in the past (i.e. it's OK if the certificate has expired) before being allowed to take the MTCSE Exam, however this does not preclude them from attending the course only. However any student without a MTCNA (expired or not) will not be permitted to take the MTCSE Exam under any circumstances as this is contrary to MikroTik Terms and Conditions. Students with an expired MTCNA are permitted to re-take their MTCNA before taking the MTCSE Exam. Purchase of the MTCNA Exam only is available here
Laptop with WiFi and Ethernet ports. If laptop is non-windows based (e.g. OSX, Linux), then Winbox must be pre installed and working before arrival.
USB Serial console cable
2 x CAT5 cables, min length 2m each
If the student is wishing to take the examination, then Photo ID will be required to prove identity before taking the exam. Acceptable types of ID are equal to that required for professional or government controlled exams. E.g. Passport, Photo Driving Licence, National ID Card.
What is included?
Tea/Coffee, soft drinks throughout the day.
Buffet Lunch
Free hAP AC Lite Router to take away with you after the course!
Training Manual
Free MikroTik RouterOS Level 4 License on passing examination
For details on current and upcoming MikroTik Training Courses, please vist our training course page for more details. If you have any other questions relating to our training course, please all our technical team on 01449 724255 or email shop@linitx.com for assistance.