Over the last year, we have been working with Makelight and Eskimo on a number of high density WiFi based projects for concerts by Bastille, Laura Mvula, Biffy Clyro and more. On this occasion Makelight were hired to create a stunning special effect for the Channel4 TV programme "Stand Up To Cancer" tonight.  Using up to nearly 1000 iPads to be held up by the audience in the TV Studio.  The effects created will include light patterns and scrolling text to show for example, the total amounts donated so far, in a 'ticker tape' style.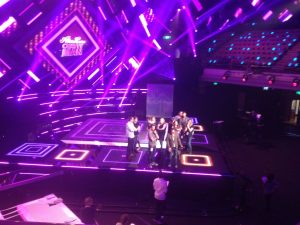 The problem was that in the location chosen for the show tonight in Central London, the in-house wireless system was not working optimally and were causing many of the iPads to drop connection and thus cause "dead or incorrect coloured pixels" to the resultant display. We were called in to identify any wireless problems and of course, fix them!
We quickly identified that the problem was interference to their Meraki based system. The TV Production company were also using 2 channels on 5GHz for their hand held cameras, so there were already a couple of channels we had to avoid so that they would be able to guarantee high quality images throughout the Live TV show for Channel 4.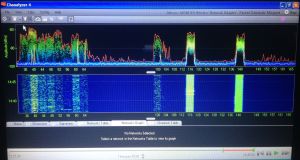 Working closely with the venue's IT manager, we recommended a new channel plan taking into account the TV camera technical team's spectrum usage, some relocating of the venue's Meraki APs, a reduction in overall Transmit power and some other minor configuration changes to the Meraki settings.  We then performed a full wireless site survey to check everything was working well.  The following is just one screenshot from our site survey software depicting the Signal to Noise Ratio around the venue. The audience are to be seated around the left, bottom and right edges of the auditorium and that was where the WiFi needed to be at it's best.  Green shows where the SNR is very good, yellow is where it is good.  The four corners are where the exit doors are and therefore did not need to be covered.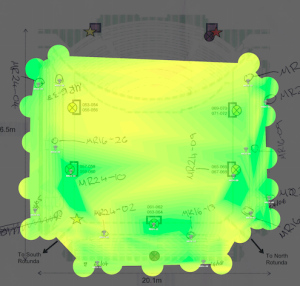 The end result was that the iPad performance significantly improved and more importantly it should mean the effect we will be watching on TV tonight will be as stunning as it was designed to be by the guys at Makelight.
While walking around doing the site survey, I couldn't help but notice Alan Carr, Adam Hills, Josh Widdicombe and Alex Brooker from the Last Leg rehearsing and it looks like it's going to be an entertaining show tonight!
If you are interested in hiring our wireless consultancy services, why not get in touch?