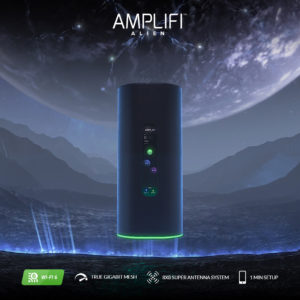 Something out of this world just happened at the LinITX offices this morning. We've just seen something strange hovering in our cloudy Suffolk skyline, many of our staff thought they'd seen a UFO, but it soon became clear it was the new AmpliFi Alien Gigabit WiFi 6 Gigabit Router.
An official UK release date has not been announced, but we hope to see this landing on our shores sometime in the first half of 2020.
AmpliFi Alien comes with 2.4/5 GHz Wi-Fi 6 and 5 GHz Wi-Fi 5 radios. They deliver 7685 Mbps total capacity and 16 spatial streams from a single AmpliFi Alien unit.
Easily mesh multiple units over the air to build virtually unlimited Wi-Fi capacity in your home.
The AmpliFi Alien is part of the Ubiquiti AmpliFi range of mesh wifi products.
Intuitive Touchscreen:
The vibrant touchscreen displays network status and provides instant controls.
For your convenience, set the display and the green LED ring automatically turns off.
Resolution: 274 x 1268, 279 ppi
Colour: Full Colour
Size: 4.7-inch (diagonal)
Controls: Touch Controls and Haptics
AmpliFi Alien is a powerful and secure router with a single Gigabit internet interface and internal power supply.
Each Alien router has an integrated LAN switch with 4 Gigabit Ethernet ports.
Bring Gigabit Ethernet into any room without pulling wires. Use Wi-Fi 6 for wireless connectivity and the LAN ports for local wired connectivity.
INTERNET: 1 Gigabit WAN Port
LAN: 4 Gigabit LAN Ports
AmpliFi Alien is optimized to provide your home network with the highest possible performance regardless of how many client devices are connected simultaneously. Utilizing MU-MIMO and OFDMA for communication across twelve Wi-Fi 6 spatial streams, Alien eliminates dead spots and increases total home network capacity by four times. Alien also offers a separate 5 GHz radio with Wi-Fi 5 (802.11ac) speeds which you can dedicate to performance-critical devices and avoid competing for bandwidth with other devices on your home network.
Antenna: High-Performance Custom Antenna Array
Processor: 2.2 GHz 64-Bit Quad-Core CPU
Wi-Fi 5: 5 GHz Radio
Wi-Fi 6: 5 GHz and 2.4 GHz Radios
Specifications (subject to change for the UK model):
Dimensions:  110 x 110 x 250 mm (4.33 x 4.33 x 9.84″)
Weight: 1.2 kg ( 2.65 lb)
Max. TX Power: 2.4 GHz: 23 dBm per chain, 5 GHz 19 dBm per chain (low band)/ 20 dBm per chain (high band)
MIMO: 2.4 GHz: 4×4 5 GHz: 4×4 (low-band) + 8×8 (high band)
Speed: 2.4 GHz: 1148 Mbps, 5 GHz: 1733 Mbps (low band)/ 4804 Mbps (high band)
Networking Interface: Wi-Fi; Gigabit Ethernet: (1) WAN, (4) LAN
Max. Power Consumption: 35W
ESD/EMP Protection: ± 24kV Air/Contact
Buttons: Reset
Antennas: (1) Internal Dual-Band Metal Stamp with 12 Polarity
Display: 110.38 mm (4.7″) Diagonal, 274 x 1268, 279 ppi, G+F Touch, Full Colour
Wi-Fi Standards: Up to Wi-Fi 6
Power Save: Supported
Wireless Security: WPA2
Operating Temperature: 14 to 113° F (-10 to 45° C)
Operating Humidity: 5 to 95% Noncondensing
Certifications: FCC / IC
Max. Supported Data Rates:
802.11a: 54 Mbps
802.11b: 11 Mbps
802.11g: 54 Mbps
802.11n: 600 Mbps + 600 Mbps
802.11ac: 1733 Mbps + 3466 Mbps
802.11ax (Available to Clients): 1148 Mbps + 4804 Mbps
You can find more information on the AmpliFi Alien WiFi 6 Router on Ubiquiti's US website.
Alternatively there is a great article on the best WiFi Extenders featured on BroadbandSearch.net