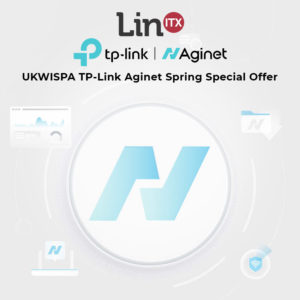 LinITX.com has teamed up with TP-Link Aginet to bring all UKWISPA members a special Spring offer on selected Aginet products!
TP-Link Aginet offers end-to-end WiFi management solution for ISPs + WISPs. Featuring a wide range of products, including WiFi6 routers, LTE Routers, VDSL modems, Mesh WiFi, GPON terminals and more.
TP-Link's Aginet Solution includes TAUC solution, Aginet ACS solution, Aginet Config and Aginet App.
It provides ISPs with a fully-functional WiFi management platform. ISPs can easily reduce operational costs and gain maximum profit with the highly powerful and flexible solution.
For a limited time only, we have three TP-Link Aginet models at a Special Offer price for UKWISPA members. If you'd like to place an order for these products at your special price, please create an account with LinITX.com here.
We also offer special pricing trade accounts – open to most businesses, and credit accounts (subject to meeting criteria and being accepted by our accounts team).
Prices from – £37 Exc VAT for UKWISPA members
AX1800 Dual-Band Wi-Fi 6: 1201 Mbps (5 GHz) + 574 Mbps (2.4 GHz)
802.11ax Technology: Create a seamless Wi-Fi network in your home with the revolutionary combination of OFDMA, HE80, and Beamforming technologies
EasyMesh: Provides whole-of-home WiFi coverage with standard mesh technology
Gigabit Wired Speed: 1× Gigabit WAN/LAN port + 2× Gigabit LAN ports.
TR-069 & TR-369 Remote Management: TR-181, TR-369, TR-111, and TR-143 are supported
Prices from – £45 Exc VAT for UKWISPA members
802.11ax Technology: Create a seamless Wi-Fi network in your home with the revolutionary combination of OFDMA, MU-MIMO, and Beamforming technologies
VDSL2 35b Technology: The latest VDSL2 35b tech delivers internet speeds of up to 350 Mbps, while G.vector technology ensures a reliably stable connection
EasyMesh: Provides whole-of-home Wi-Fi coverage with standard mesh technology
Interface: 1× DSL port + 1× Gigabit WAN port + 3× Gigabit LAN ports + 1× FXS port + 1× USB 2.0 port
TR-069 & TR-369 Remote Management: TR-098, TR-181, TR-111, TR-104 and TR-143 supported
Prices from £44 Exc VAT for UKWISPA members
​​​​​​AX1800 Dual-Band Wi-Fi 6: 1201 Mbps (5 GHz) + 574 Mbps (2.4 GHz)
802.11ax Technology: Create a seamless Wi-Fi network in your home with the revolutionary combination of OFDMA, MU-MIMO, and Beamforming technologies
Ultra Connectivity: 1x Gigabit WAN + 3 x Gigabit LAN Ethernet ports and USB 2.0 port provide warp speeds and flexible internet access
EasyMesh: Provides whole-home Wi-Fi coverage with standard mesh technology
Telephony: Make or receive phone calls over the internet simply
Easy Setup: Set up your router in minutes with the powerful TP-Link Aginet App
TR-069 & TR-369 Remote Management: TR-098, TR-181, TR-111, and TR-143 are supported
If UKWISPA members would like any further information on TP-Link Aginet products or any other wireless and networking products in our catalogue, please give our team of experts a call on 01449 888000 or email shop@linitx.com