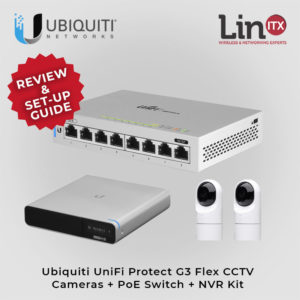 LinITX likes to work with previous customers who add value to our products and services by providing reviews and how-to guides.
Lewis from Everything Smart Home has created a brilliant review and guide for a number of devices in the UniFi Protect product range. You can check out his UniFi Protect review online now.
After considering the options in the UniFi Protect range, we sent him a nice UniFi Protect starter kit to thoroughly test and review, which consists of the following items:
1 x UniFi Cloud Key Gen2 Plus
1 x UniFi 8 Port 60W Network Switch
2 x UniFi G3 Flex CCTV Camera
Lewis' review and guide for setting up the UniFi Protect Kit is very detailed and runs through setup on both the mobile and desktop app. Any customers interested in purchasing any of the UniFi Protect range of products should definitely read through this review and see just how easy it is to set-up and start monitoring your home CCTV.
If any customers have more technical questions on UniFi Protect products or setting up the UniFi Protect App, please call our technical team on 01449 724255.