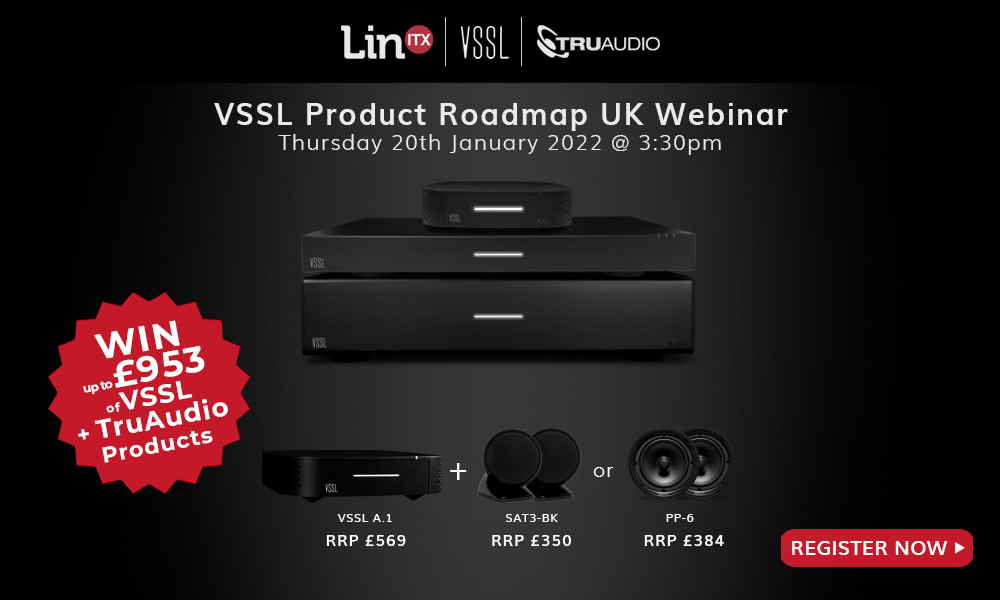 VSSL Product Roadmap UK Webinar
Thursday 20th January 2022 @ 3:30pm (UK GMT)
LinITX would like to welcome you to take part in a FREE online webinar hosted by VSSL + TruAudio in January 2022. Attendees can expect to hear about the exciting new product range from VSSL + TruAudio.
Plus anyone registering for the webinar will be entitled to 30% off retail pricing for any VSSL or TruAudio products purchased from LinITX.com – in order to claim your discount, please email us the products you intend to purchase before ordering, and we will apply the discount for you.
Win Over £950 of FREE VSSL & TruAudio Products!
LinITX has teamed up with VSSL & TruAudio to offer a great giveaway for all attendees of the product lineup webinar. Attendees will have a chance to win a VSSL A.1 Home Streaming Amplifier plus your choice of either a pair of TruAudio SAT3 Black Surround Sound Speakers or a pair of TruAudio PP-6 In-Ceiling Install Speakers.
In order to be in with a chance to win, entrants must answer a series of questions at the end of the webinar; questions will relate to the webinar directly and cover VSSL and TruAudio products and features. The winner will be chosen at random from the highest scoring entries on the quiz. Only attendees of the webinar will be allowed to enter, the competition closes 5pm January 20th 2022.

If you have any questions relating to VSSL and TruAudio products, please give our team of experts a call on 01449 888000 or email shop@linitx.com for further help and support.