MikroTik Certified Network Associate (MTCNA) Training Course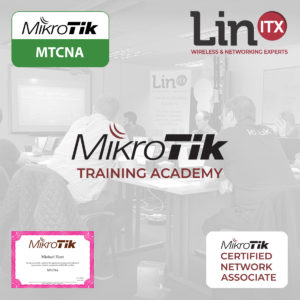 The Course:
The MTCNA training course is constantly being updated and refreshed using the latest syllabus from MikroTik plus loads of other extra very useful topics. It will provide you with the skills to configure a MikroTik RouterOS RouterBoard as a dedicated router, a bandwidth manager, a secure firewall appliance, a simple wireless access point or a transparent Layer 2 point to point wireless link, a VPN Server and VPN Client etc.
It is a course that covers the basics for those that are new to MikroTik RouterOS (or are struggling to understand it!) and concentrates on the basics of setting up a MikroTik device. Subjects covered include installing and upgrading the RouterOS, first login to the RouterOS using WinBox/WebFig and CLI, creating a simple network, static IP addressing and routing, creating a DHCP server and client, firewall filters and NAT rules, simple VPN Tunnels, Simple queues and PCQ queues for bandwidth control, wireless networks including bridging interfaces and setting up a PPPoE service.
This MTCNA course has been updated to exceed the requirements of MikroTik's March 2016 course syllabus content available to read here… http://www.mikrotik.com/pdf/MTCNA_Outline.pdf)
The Trainer:
The MTCNA training course is being delivered by Chris Hasell. Chris has a wealth of experience in MikroTik based routing systems having provided consultancy services to ISPs and businesses utilising Mikrotik equipment around the world. Chris currently holds the MTCNA, MTCRE and MTCTCE Training Certifications.
The MTCNA Qualification:
The MTCNA qualification is issued upon passing the MTCNA online examination, it is not available unless invigilated by an approved Mikrotik Trainer. In order to take the examination MikroTik require the full attendance of an official training course delivered by an approved Mikrotik Trainer. The training delivery and material used by Trainers is checked by Mikrotik to ensure a high standard is maintained and therefore the student can be assured that the qualification is of worth to any potential employer. The training material is updated as each RouterOS version is updated and therefore the MTCNA qualification is only valid for a period of three years from date of issue.
Q. Do I really need to attend a MikroTik course, can't I just learn it all for myself?
A. Sure, of course you can – if you really have the time to learn the complexities of the MikroTik RouterOS which involves a steep learning curve. So, yes, you could just try to figure it all out for yourself but it is our belief you would benefit more greatly by attending one of our training courses instead. You will not only learn from the trainer's own personal experiences, be provided with quality training materials that you can refer to later, and walk away with gained knowledge that you can immediately use in your workplace when you return. We think it is a tremendous investment and money very well spent.
Intended Target Audience:
This course is aimed at network administrators, integrators, Technical Managers, IT consultants and other technical users who already use or would like to start using Mikrotik RouterOS. It is also a good introduction to routing and firewall systems, especially in a wireless ISP environment. It is not suitable for those with no prior TCP/IP knowledge!
Student Prerequisites:
Knowledge of TCP/IP – IPv4 addressing, subnetting, OSI Model and basic networking skills are not covered by the course!
Before attendance on MTCNA, it is a requirement to take the MikroTik "Example Test" which is available in your MikroTik Account.
Laptop with WiFi and Ethernet ports. If laptop is non-windows based (e.g. OSX, Linux), then Winbox must be installed and working before arrival.
Very useful but optional – a working 9 Pin RS232 'console cable' or old style Cisco type 'rollover cable' terminated in a 9 pin RS232 connector
two CAT5 cables, min length 2m
If the student wishes to take the MTCNA exam, Photo ID will be required to prove your identity.
What is included?
3 days of training.
You get to keep the MikroTik hAP AC Lite Router used on the course!
Tea/Coffee, soft drinks throughout the day.
Buffet Lunch
Training manual
Free MikroTik RouterOS Level 4 License on passing examination
The exam – (if required)
For details on current and upcoming MikroTik Training Courses, please vist our training course page for more details. If you have any other questions relating to our training course, please all our technical team on 01449 724255 or email shop@linitx.com for assistance.