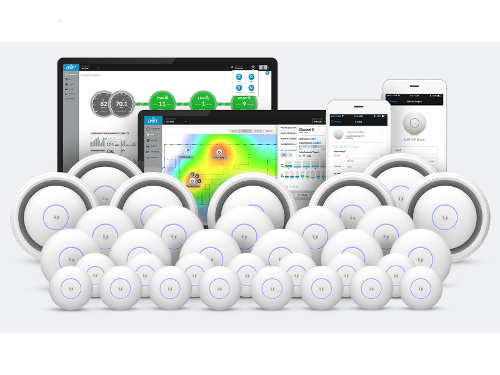 Many customers ask us questions such as "Should I cloud host my UniFi controller?" and "Do I need a hardware UniFi controller?". There is no right or wrong answer to these questions as much of it comes down to the specifics of the job.
If you are installing UniFi equipment for your end users then a cloud based solution is a great answer. You can manage multiple sites for multiple customers all in one place. Some distributors and resellers even offer their own cloud-hosted options, but these carry an annual cost as well as admin fees. It is not as hard to host your own Controller as you might think, and you can get the software for free from the Ubiquiti website.
If you are a home or small office user then you may want to opt for a local solution. This could be installed on a PC on site or hosted on a Cloud Key (more on these later). The blog post will cover a few typical use cases for the UniFi Controller as well as our recommended solutions.
Managing your own home installation –
Although the UniFi range is aimed at the enterprise market, their compact and minimalistic design means they do not look out of place in the home. Managing a home scenario is relatively simple as you most likely will not need a machine on 24/7 to run the software. The UniFi Controller has versions available for the three main operating systems; Mac, Windows and Linux. There is even an App for IOS and Android that you can use to perform a one time standalone setup. Typically we would suggest either running the software once on a local machine such as your latop or PC to get everything running then simply close the software. The access points will continue to run normally but you will lose out on some features, such as guest control and guest portals but to most people that doesn't matter. You can do the same with the phone App and set them up in standalone mode.
If you want to keep your access points up-to-date and use the guest features at home, then this is where the Cloud Key comes in. The Ubiquiti UniFi Cloud Key Controller (UC-CK) will allow you to manage multiple products and access points from the UniFi family whilst maintaining full fuctionality on a compact device with minimal power consumption.
Managing your SME –
For SMEs you most likely already have the infrastructure in place which you could use to run the controller software on. You can download the software here for free. There are no licencing fees or support costs with Ubiquiti software. This will allow you to control and manage your own network, giving you plenty of flexibility. If you do not have the on-site facilities to accommodate this solution then renting space on a cloud service (such as AWS) is a good alternative. A Cloud Key could also be used with the option of upgrading to a Gen 2 model should you need to manage a larger number of UniFi devices.
Ubiquiti solution installers –
If you regularly install Unifi solutions for end users, you could use any of the aforementioned solutions; a popular choice is one Cloud Key per customer per site. However, we would strongly reocmmend using a single, centrally managed, Controller instance. This way you can remotely adopt Unifi devices to your Controller via SSH or by using the Discovery Tool, you can find details on the process here. This would enable you to allocate each physical install to a separate Site within the Conroller software, thereby keeping management and user data seperate between installations. If your customer would like to manage their own network, you can create an admin account that only allows access to their specific Site.
Hopefully, this information will help you decide the most efficient solution for your installation.