What is 5G?
5G is the 5th and latest (as of February 2023) generation of wireless mobile technology. It has the potential to be up to 100 times faster than the previous 4G standard.
In terms of connection speed alone, and compared to previous iterations, 3G can reach network speeds of up to 7.2 Mbps, 4G can reach network speeds of up to 150 Mbps, and 5G will eventually reach speeds in excess of 1Gbps (with a theoretical maximum of 10 times this speed). A more realistic speed for 5G in the UK is currently around 90Mbps – 230Mbps.
In terms of consumer use, 5G allows users to stream hi-resolution video content and other more data-intensive online tasks, including Augmented Reality (AR), Virtual Reality (VR), responsive gaming and more.
All 4 of the main UK mobile networks currently offer 5G services, along with 5G mobile phones and other 5G LTE networking devices offering comptibility to take advantage of this new mobile standard.
What are the advantages of 5G?
As highlighted above, 5G is much faster than previous generations of wireless technology, alongside this increased connection speed 5G has the benefit of a greater network capacity, allowing thousands of devices in a small area to be connected at the same time.
5G can also be more responsive, due to its reduction in latency compared to previous versions; this kind of improvement is especially beneficial to gamers who want their inputs and button presses to be registered with the absolute minimum of delay.
There are also greater benefits to 5G, which allows new business-focussed tasks that may have not been possible with the previous lower data rates. Industries currently using 5G include: e-health; transport and logistics; environmental monitoring; smart energy networks; smart agriculture, smart retail and more.
How can I take advantage of 5G in my network?
Although there is a limited range of 5G products in the UK currently, LinITX stock a small range of 5G routers and 5G access points.
Teltonika TRB500 Industrial 5G Gateway Router – TRB500
The Teltonika TRB500 gateway is a small form-factor, energy-efficient industrial gateway with Gigabit Ethernet interface and 2 x configurable I/Os, allowing high-level customisation and implementation of a many different installation environments.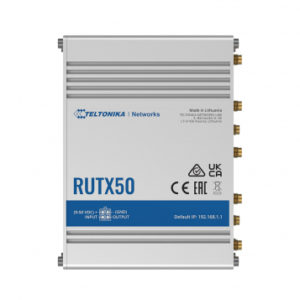 Teltonika RUTX50 5G Industrial Router – RUTX50
The Teltonika RUTX50 features 5G dual SIM cellular communication combined with 5 x Gigabit Ethernet ports and dual-band WiFi, enabling reliable ultra-low latency data transfer.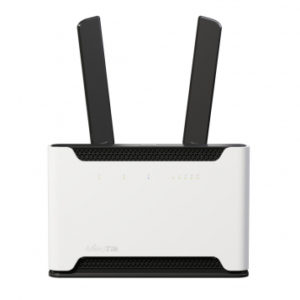 Mikrotik Chateau 5G Dual-Band Access Point
The Mikrotik Chateau 5G router is a wireless, dual-band, home access point router with 5G/LTE support designed to provide a fast internet connection anywhere at anytime. It also features 5 x Gigabit Ethernet ports, full size USB port, and strong dual-band wireless.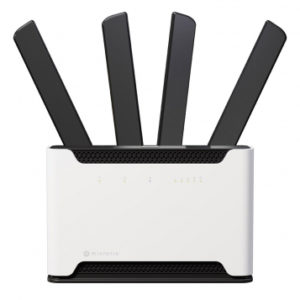 MikroTik Chateau 5G ax WiFi 6 Mobile Access Point Router
MikroTik Chateau 5G ax WiFi 6 access point router, featuring a wireless interface that supports the latest 802.11ax (WiFi 6) standard and is backwards compatible with all previous versions. In a perfect setup and the ideal environment, the 5G modem can reach incredible speeds of up to 5 Gbps for downloads and up to 900 Mbps for uploads.
If you require any further information on 5G products, please call our team of experts on 01449 888000 or email shop@linitx.com