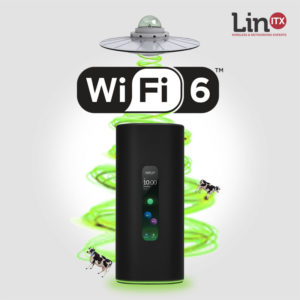 After the release of the AmpliFi Alien in the US, which supports WiFi 6 connectivity (currently there is no firm release date for the UK model), LinITX thought it would be a good idea to write a quick guide to WiFi 6 and all it has to offer.
We advise on how soon you should update your kit and whether it's worth waiting until WiFi 6 is integrated into more devices (spoiler – it is definitely worth waiting until more devices support it).
Early adoption might not reap any rewards until you own multiple WiFi 6 devices.
What is WiFi 6?
WiFi 6 also known as 802.11ax is the next generation of WiFi connectivity; it replaces the previous WiFi standard, referred to as WiFi 802.11ac (AKA WiFi 5).
What improvements does WiFi 6 offer over the previous 802.11ac?
The theoretical maximum connection speed has increased from 3.5Gbps to 9.6Gbps – however these maximum speeds would rarely (if ever) be achieved in real-world scenarios.
WiFi 6 is optimised for networks where multiple devices are connected simultaneously – it introduces new technologies that help eliminate potential issues from running a network with 10+ devices connected at once. It should help future-proof many networks, as more and more homes and businesses are connecting an ever-increasing number of WiFi devices.
WiFi 6 is not about an increase in connection speed, it's about an increase in the efficiency of how devices connect to a network.
What are the new features of WiFI 6?
Multi-User Multiple Input Multiple Output (MU-MIMO): offers improved throughput via simultaneous data streams to multiple devices
Orthogonal Frequency Division Multiple Access (OFDMA): increases network efficiency and lowers latency
Target Wake Time (TWT): significantly optimises battery life in WiFi devices
160 MHz channels: increases bandwidth, offering greater performance with lower latency
1024 Quadrature Amplitude Modulation Mode (1024-QAM): encodes more data, allowing for greater throughput
Transmit Beamforming: enables a greater network capacity offering a higher data rate
How do I start making the most of WiFi 6 right now?
In short, you need to upgrade virtually all of your WiFi connected devices, including your router. The problem with doing this (right now) is that it's prohibitively expensive and there are not currently enough devices that will actually take advantage of the new WiFi 6 technology. Also, it's worth considering the fact that there is very little improvement in connection speed when using a WiFi 6 enabled device and router VS a WiFi 5 enabled device and WiFi 5 enabled router. WiFi 6 is optimised for networks connecting to multiple devices, it doesn't offer a huge improvement if you are only connecting a single WiFi 6 device to a WiFi 6 router.
When should I start upgrading all of my devices?
If you really want to stay ahead of the curve, the only device you'll need to upgrade right now is your router, but this is more of a future-proofing exercise, rather than a purchase that will immediately offer improvements over your current network setup. Our advice is to wait for WiFi 6 technology to be integrated into devices that you will inevitably upgrade over time – smart phones, games consoles, smart hubs, streaming devices etc. will all eventually include WiFi 6 compatibility and until you have enough devices all utilising WiFi 6 technology on the same network, you will not see the benefits.
Which devices are currently available that use WiFi 6 technology?
Currently (February 2020) there are around 20+ WiFi 6 enabled routers available to purchase, we won't be linking them here, but a quick Google search will show you what's available in the UK right now. Of the items we currently stock, the AmpliFi Alien is WiFi 6 compatible, but it does not have a firm UK release date as yet. For a suitable alternative, we recommend the AmpliFi HD Kit. Other than routers, there are newer smartphones from most of the main brands offering WiFi 6 – Apple iPhone 11, Samsung Galaxy S10 range and the S20, Samsung Galaxy Note 10 and 10+ and the upcoming Samsung Galaxy Fold.
As you can see, there aren't enough devices offering WiFi 6 to fully take advantage of its technology just yet. We advise waiting until more devices support WiFi 6, before upgrading any of your equipment; the most important upgrade will be your router, followed by the gradual upgrade of your household smart devices.
If you have any questions regarding WiFi 6 compatibility, please contact our technical team on 01449 724255 or email shop@linitx.com